• Republican Josh Mandel, Ohio's absent Treasurer and perpetual candidate, has firmly stated that he was against the auto bailout that President Obama championed.
- Josh Mandel obviously doesn't care that over 1,000,000 jobs were saved
in
the USA.
- Josh Mandel doesn't care that 850,000 Ohio jobs related to the auto industry were saved.
- Josh Mandel doesn't care that the middle class families of auto workers are safe.
- Josh Mandel doesn't care that repealing the Affordable Health Care Act will hurt women.
>>>> Josh
Mandel's jobs plan
, is a plan
without
veterans, the middle class, blue collar workers, job safety, the trades, college graduates, etc. Mandel's plan is a plan of ridiculousness.
Mentions in
Mandel's jobs plan
:
veterans = 0 women= 0 equal pay =0 middle class = 0 blue collar = 0
teachers = 0 job safety = 0 business owners = 2 job creators = 5
wages = 0 pensions = 0 college graduates = 0
Josh Mandel has a plan that doesn't include anyone but his cronies.
* Here is a poll that will catch you by surprise.
Cleveland Jewish News
:
In an online poll the CJN asked, "If the election were held today, who would get your vote?" The choices offered were: Sherrod Brown,Josh Mandel or "I'm not voting."
At the close of the poll Sherrod Brown was selected by 81% of respondents, Josh Mandel by 18% and 1% affirmed that they would not be voting.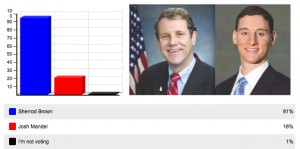 CJN Poll Results: Brown or Mandel
Sherrod Brown 81% | Josh Mandel 18% | 1% chose "I'm not voting."
The people that
know
Josh Mandel the most, just don't like him and his right wing politics.
If Mandel wins, the right wingers will control the Senate. Women, children, the elderly, college students, and the middle class will lose.
> Ron, over at
Ronstidbits
, explains some background on Josh Mandel and his (lack of) work ethics. Check it out at
http://tinyurl.com/bnovtel
•••••••••••••••••••••••••••••••••
*** Republican leader, Rep. Eric Cantor, is wrong on
many
issues, but today I'd like to spotlight this one---
RawStory
:
House Majority Leader Eric Cantor (R-VA) on Monday mistakenly described Labor Day as a celebration of entrepreneurs and business owners, rather than workers...
...However, Labor Day actually celebrates the victories of trade and labor organizations in the United States, who fought for 8-hour work days and other standards that most Americans take for granted....
Once again, Eric Cantor demonstrates his arrogance and stupidity. Cantor finds it impossible to recognize the men and women that built this country. Shame. Shame. Shame.