Ohio voters should be aware of where the Senatorial candidates stand on bringing jobs to Ohio's once empty manufacturing plants. In the debate between Sen. Sherrod Brown and Josh Mandel yesterday, voters heard the truth.
DaytonDailyNews:
...One of the sharpest contrasts between the two was their positions on the auto rescue. Brown supported it, saying the government bailout helped save 850,000 auto industry, supplier and related jobs in Ohio. Mandel said he would have opposed it as well as the Wall Street bailout...
Brown responded by saying Ohioans are making engines and transmissions for the Chevy Cruze and Chevy Eco because of the bailout.
"To be against the auto rescue, it just boggles my mind," Brown said....
Even the
Cleveland Jewish News
reported about the debate:
...When asked about abortion, Mandel said, if elected, he'd commit to his responsibility to "advise and consent."
Brown contended that abortion is a decision better left to women, not the government.
"Unlike Josh Mandel, I trust Ohio women to make their own health care decisions," he said, describing Mandel's position on abortion as "extreme" and "out of the mainstream" by making exceptions neither for rape nor incest.....
A poll on the
Cleveland Jewish News
website shows that a huge majority believe that Sen. Sherrod Brown won the debate, with Mandel only receiving a few votes. This is similar to an earlier poll from the Cleveland Jewish News from August of this year: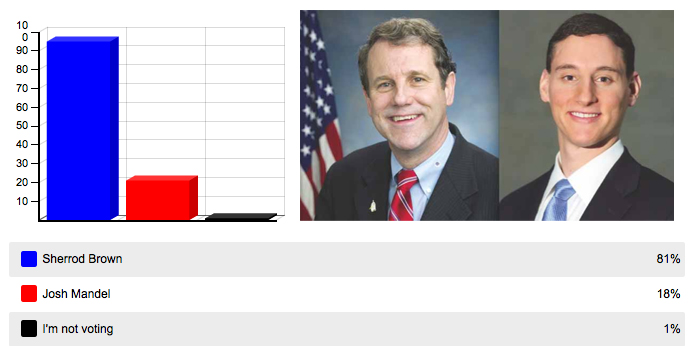 People that know Josh Mandel the best, the people in his community, do not support him.
>>>>The Romney tax plan has been released:
http://www.romneytaxplan.com/