The Republicans have no intention of working on an immigration bill, creating jobs, helping children get into Head Start, or making any improvements in your life. The Republicans have become a fixated on finding a scandal, any scandal. We cannot forget what we got from Bush and Cheney. The following is from
OccupyDemocrats.com
: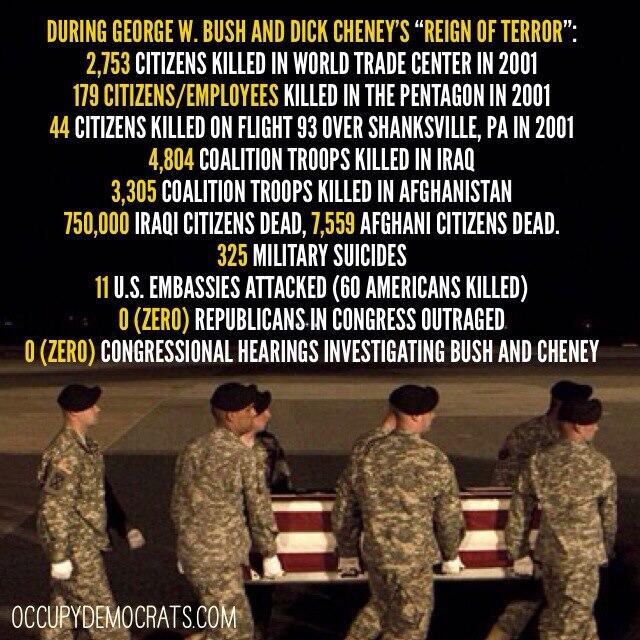 **The Republican program to attract Hispanic voters has failed.
Sun-Sentinel
:
.
..In the latest manifestation of Hispanic frustration to recent conservative currents, former Republican Party of Florida state Hispanic outreach director Pablo Pantoja, of Orlando, announced that he has switched to the Democratic Party in anger over some of the currents in the Republican Party....
...The latest under-current, the economic report from the longstanding conservative think tank The Heritage Foundation that projects immigrants to be a future $6 trillion drain on America, got pummeled by other economists as stretching, badly, for a conclusion. Then word got out that one of the advisors on that study, Jason Richwine, had written that he considered Hispanics to have low IQs, and the controversial report became a flaming bag of waste in the eyes of many Republican Hispanics....
Pablo Pantoja bravely left the the party of "NO!" and moved to the Democratic Party of progress and forward movement. I hope that someone in the DNC gives this guy a job soon.
>>> Republicans have been doing some altering of their own.
HuffingtonPost
:
One day after The White House released 100 pages of Benghazi emails, a report has surfaced alleging that Republicans released a set with altered text.
CBS News reported Thursday that leaked versions sent out by the GOP last Friday had visible differences than Wednesday's official batch. Two correspondences that were singled out in the report came from National Security Adviser Ben Rhodes and State Department Spokeswoman Victoria Nuland.
The GOP version of Rhodes' comment, according to CBS News: "We must make sure that the talking points reflect all agency equities, including those of the State Department, and we don't want to undermine the FBI investigation."
The White House email: "We need to resolve this in a way that respects all of the relevant equities, particularly the investigation."
Wow. Do the Republicans think no one would notice what they did? Even Major Garrett notices what the Republicans did (see
Mediate
).